Two Great Vintage Radios!
$450 gets both radios to your front door in the lower 48 (or $440 for local pickup). Shipping to other locales will require additional shipping costs.
If interested, contact me at my email address.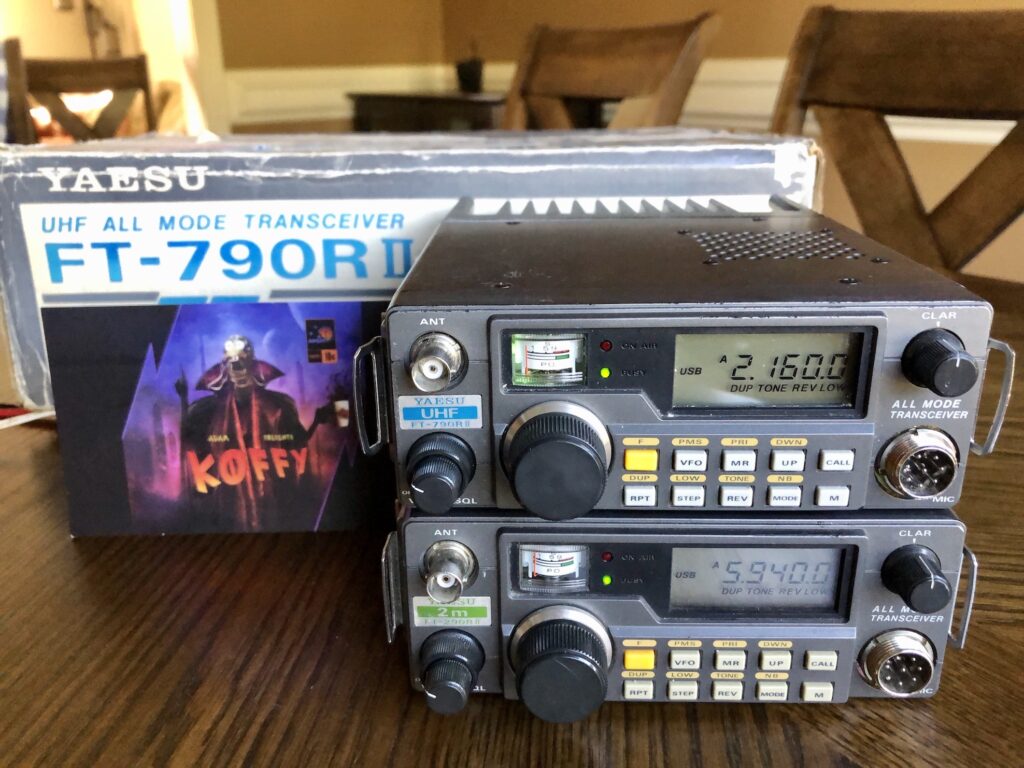 Yaesu FT-790RII All-Mode UHF Transceiver
Includes:
FT-790RII radio, an all-mode (FM, SSB, and CW) transceiver for the 70cm amateur band
FL-7025 25W 70cm band amplifier (power output: 5W low / 25W high)
CTCSS/PL tone card
hand mic with keypad
Anderson Powerpole adapter (attached)
YHA-44D portable whip antenna
original mobile mounting hardware and power cable
original box
Yaesu FT-290RII All-Mode VHF Transceiver
Includes:
FT-290RII radio, an all-mode (FM, SSB, and CW) transceiver for the 2m amateur band
CTCSS/PL tone card
FBA-8 battery compartment
Anderson Powerpole adapter
Note: the display lamp on the FT-290RII for night operation is not currently working but can likely be easily repaired.
Description
These beautiful vintage Yaesu radios are in excellent condition and I have used them for a few years mostly for working linear and FM satellites. The FT-790RII was until recently my go-to radio for working linear satellites at extremely low elevations when more than 5W of power is beneficial.
I got the FT-790RII in 2018 and have used it make contacts over OSCAR-7 and other linear satellites from my home in Iowa with stations as remote as Hawaii, Alaska, Brazil, Peru, Britain, Spain, Finland, and France! Both radios have the PL/CTCSS tone cards installed, for use together as a full-duplex FM satellite setup.
I got the FT-290RII a few months later to function as the 2m portion of linear satellite operations replacing an older radio. I also wanted the FBA-8 battery compartment, which is difficult to locate compared to the FL-2025 and FL-7025 amplifiers.
I have also used the 25W capabilities of the FT-790RII to make SSB contacts in the ARRL VHF contests.
I now mostly use my FT-817 or my ICOM-910h radios these days. I figure someone will love these for starting linear satellites or a great addition to a vintage collection.
Manuals:
While these radios are fully functional (see any notes above in description), I am selling them as-is due to their age.
If interested, contact me at my email address.