In July 2019, we decided to contribute our own personal 21st century addition to the Icelandic Sagas with an epic family trip to a Iceland. As our family grew, Jess and I had kept our commitment to continue traveling and exploring the world along with our kids. We had also set our sights on Iceland from the very start. It was not just a romantic locale, but also the setting of Jess's favorite class at Michigan Law where the primary topic was the Icelandic blood feuds of the old Norse world, which birthed a complex legal code and the oldest surviving parliament in the world, the Althing founded in 930 at Þingvellir ("thing fields"). Excited as we were, however, I have to admit on the eve of the trip, the plan to spend seven full days traversing the entire Ring Road around Iceland with 3 kids (ages 4, 6, and 9 at the time) seemed a bit daunting to even me, seasoned traveling dad who is usually brimming with a sense of adventure.
The trick to Iceland—and really any trip with kids—is to write down and rank the sights (knowing that not all will go according to plan), pack you bags (don't forget the snacks!), and finally jump on the plane without a second thought to it, and let the adventure take you rather than the other way around.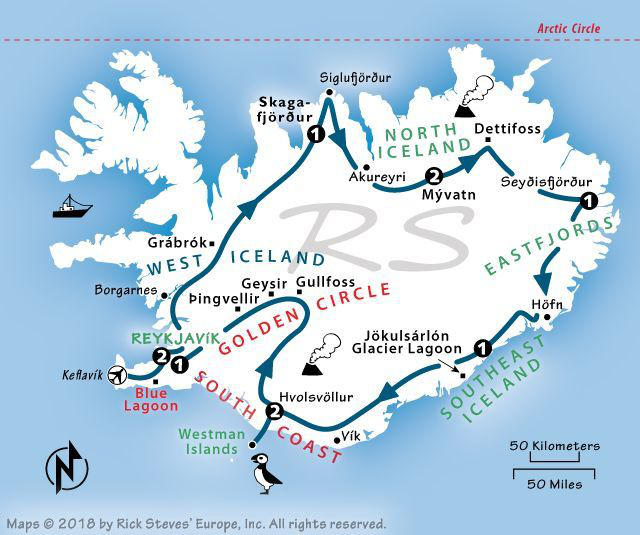 Day 1 : July 13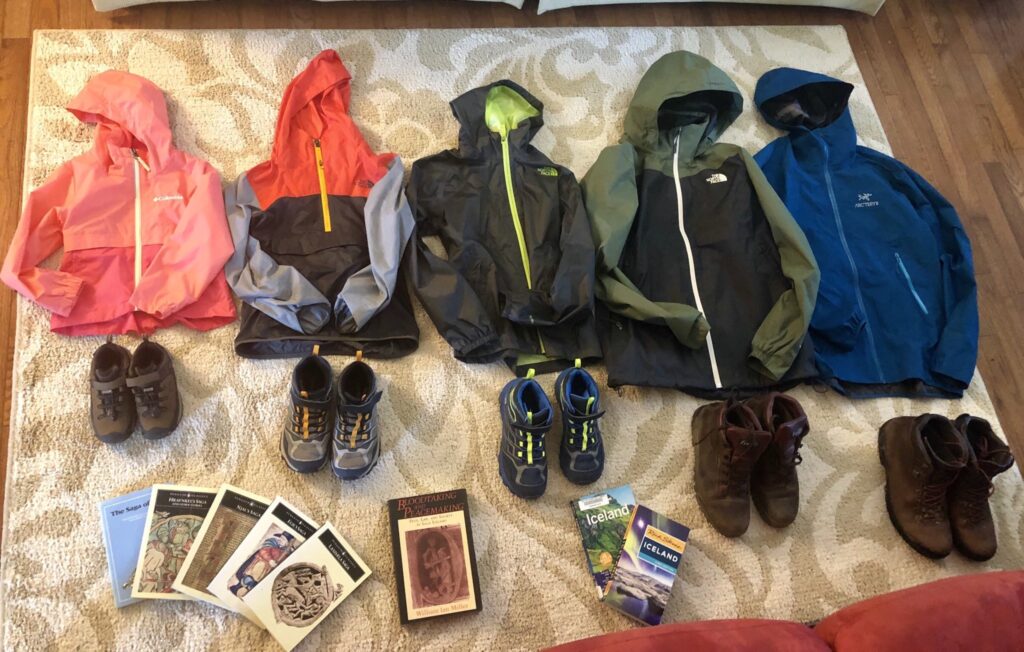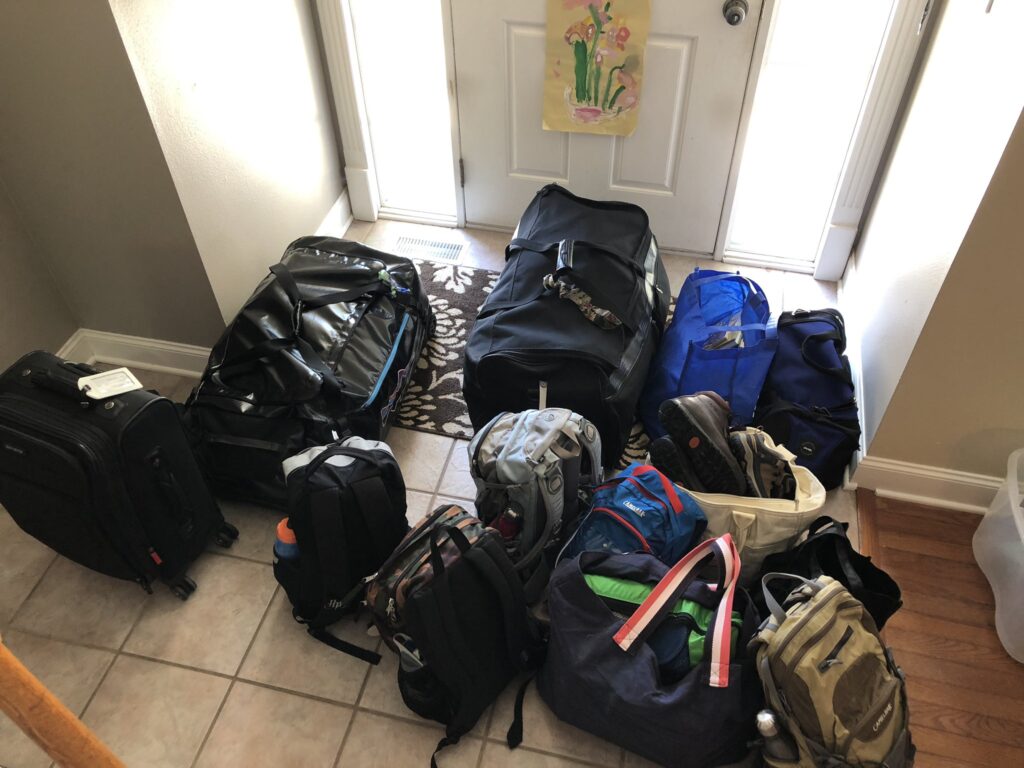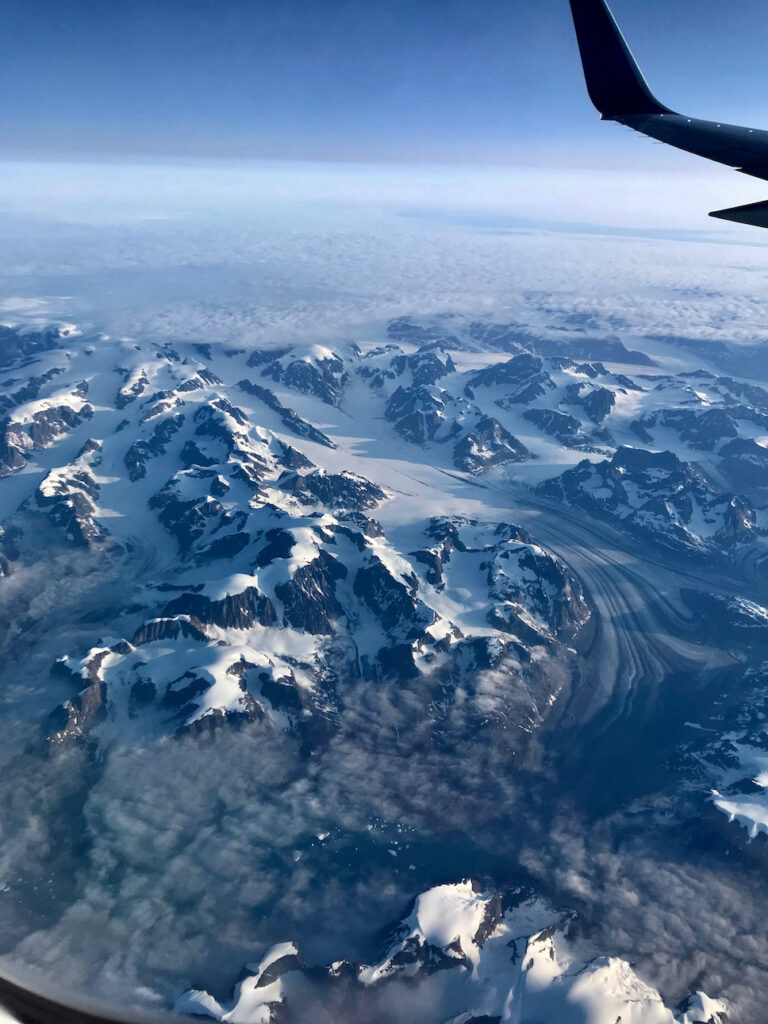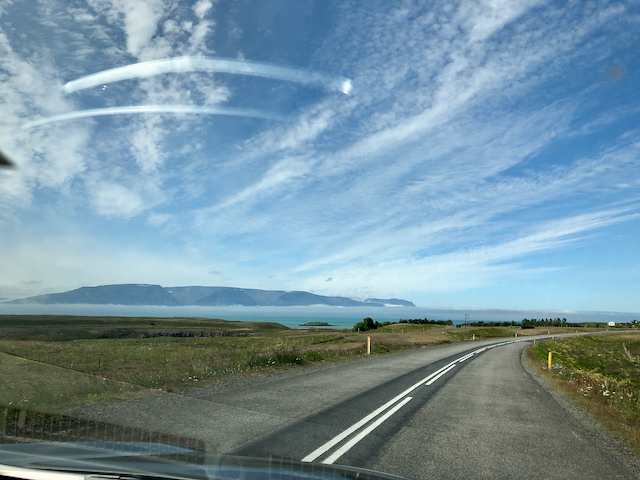 After a fairly easy flight departing from Minneapolis, and the excitement of flying over and seeing Greenland leaving me with a lingering smile, we landed in Reykjavík on the morning (local time) of July 13th carrying bags, passports, and jetlag. Exploration of the city of Reykjavík itself was on the agenda for the end of the week, so we grabbed our mighty chariot for the trip, a Dacia Duster 4×4, and headed onto the Ring Road driving north up western coast of the island, soaking up the gorgeous scenery afforded by all of the fjords we traversed.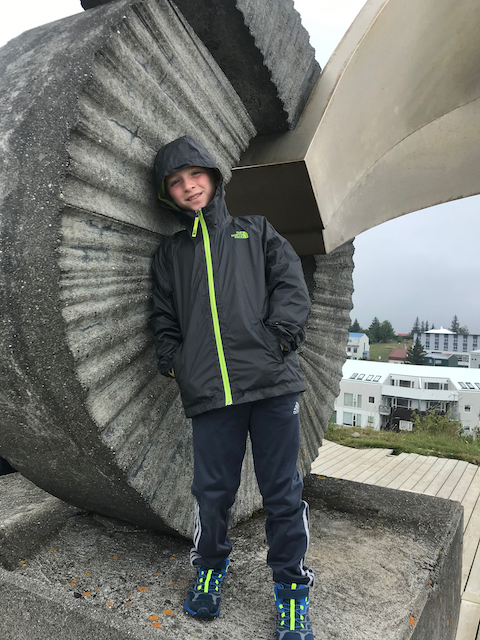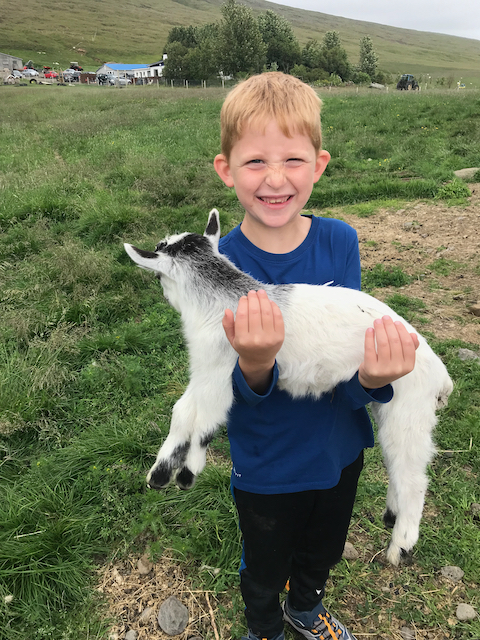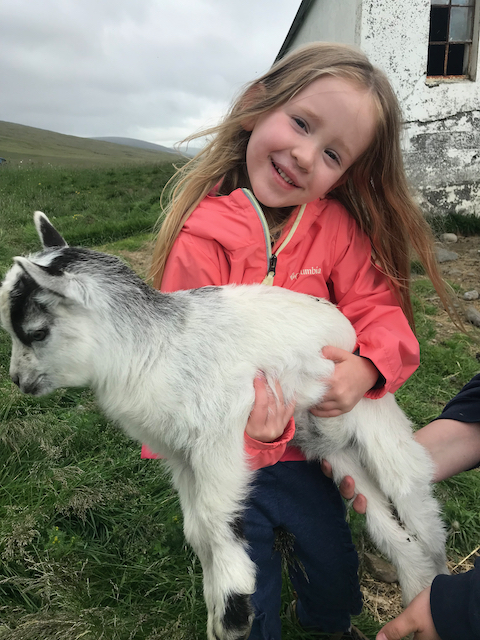 On that first day, we had lunch in the town of Borgarnes before driving into the countryside to the east to see Háafell goat farm, Hraunfossar and Barnafossar (foss means waterfall in Icelandic), and Grábrók crater. The kids certainly liked Háafell goat farm the most, where we found a place that has protected some of the original goat stock brought to Iceland by the Norse settlers. Like Icelandic horses, the goats are definitely a lot shaggier than their continental cousins, bred that way to survive the long winters. Their distinctive "olde world" look led to fame for one of the goats we saw, whose claim was that he was eaten by a dragon in an episode of the Game of Thrones series, which was in part filmed in Iceland.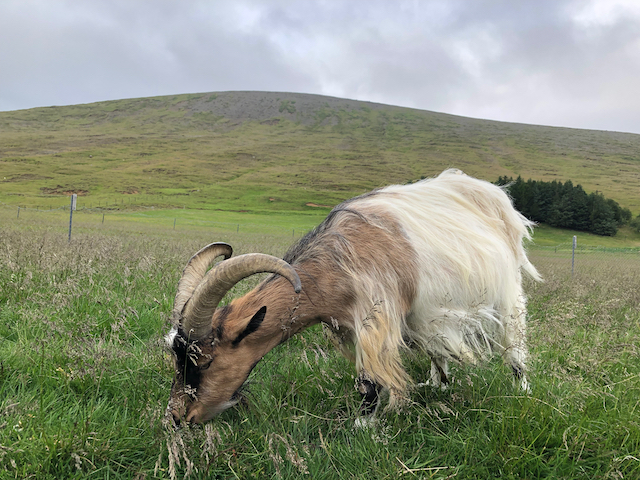 The drive to Hraunfossar and nearby Barnafossar was a bit east of the goat farm, and our first of many experiences up close with Iceland's plentiful and various waterfalls. The landscape of Hraunfossar gave for the first time a striking sense of Iceland's remoteness, with icy peaks rising in the distance to the east giving a far away glimpse of Iceland's rugged interior of mountains and glaciers.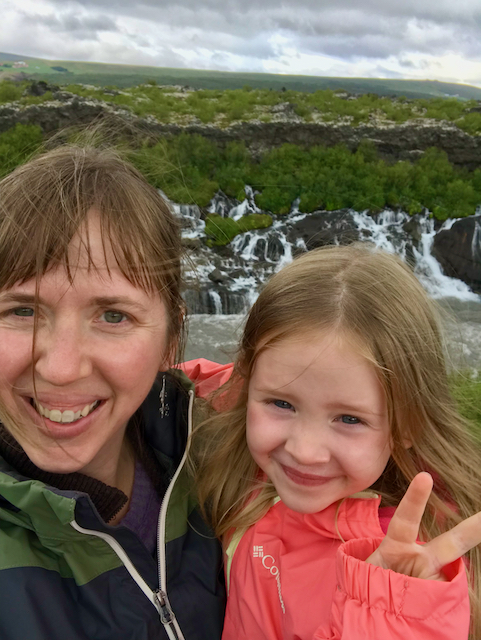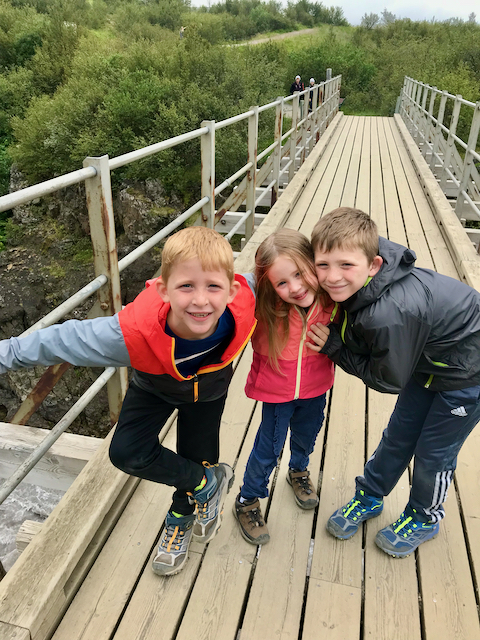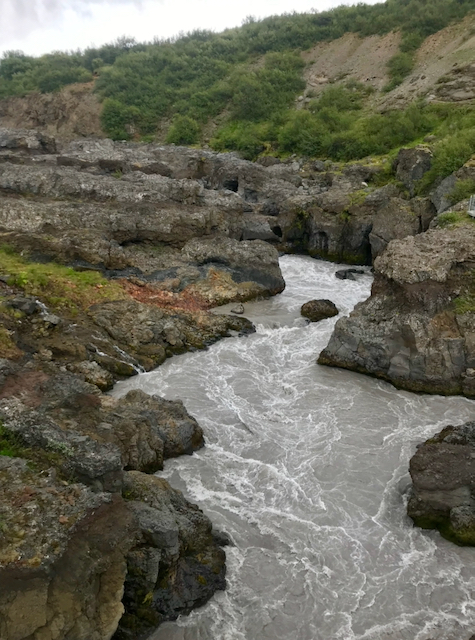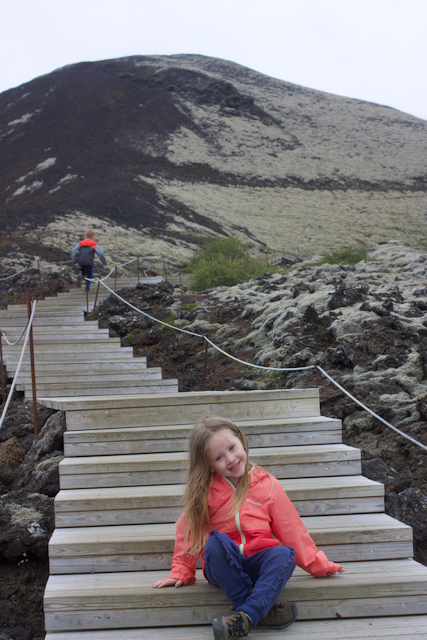 Grábrók Crater was certainly memorable. It gave us our first real evidence that we trod upon a very volcanically active land and afforded some wide ranging vistas of the dynamic and verdant landscape, often shrouded in mist.
Grábrók also gave me the first of several moments as a parent where I had to take a very active supervisory role of young children, as our impulsive redhead sprinted up the staircase and then proceeded to climb the extremely loose basalt scree that formed the walls of the crater! I had to sprint myself to snatch him back onto the path, narrowly avoiding both calamities to his safety and the environmental integrity of this beautiful landscape.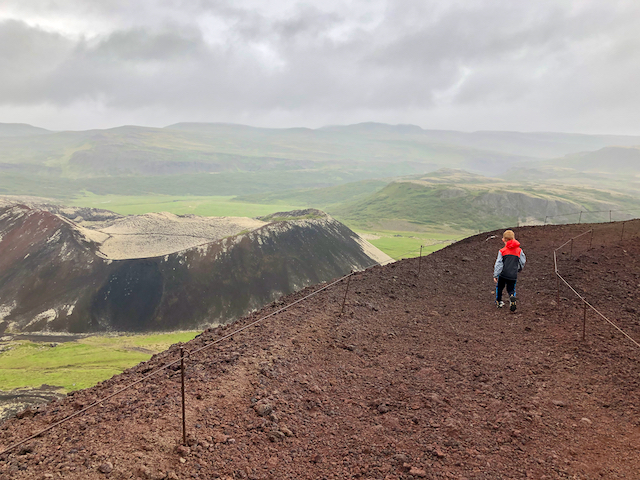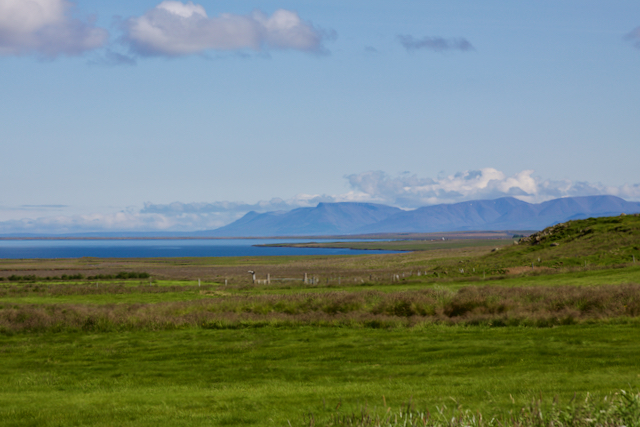 We eventually made our way up the Ring Road to our first stay at the Midhop Guesthouse on a farm that was quite isolated from any towns, on the northwest corner of the main island just east a bit from the Westfjords of Iceland, which we sadly had to skip on this trip. This day required a long drive to fit our trip itinerary, and we were very happy to arrive at our guesthouse, stretch our legs, and explore the tranquil setting both inside and outside the house.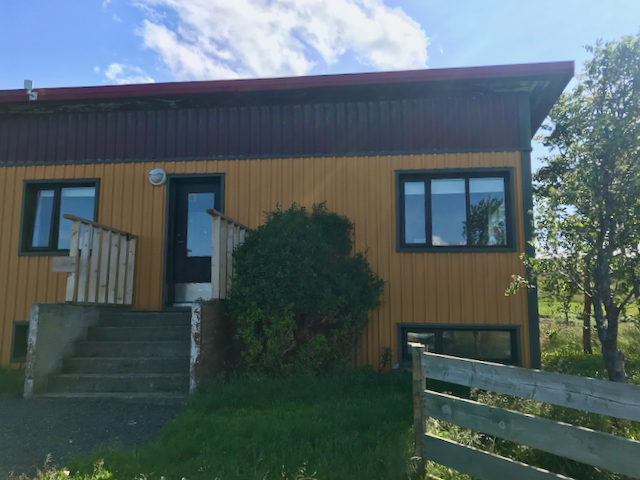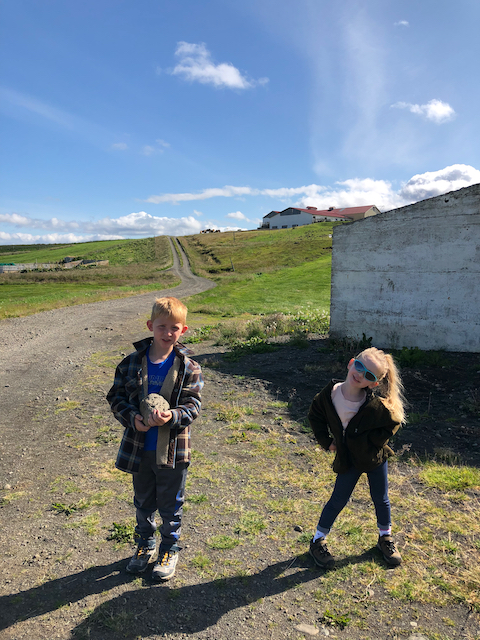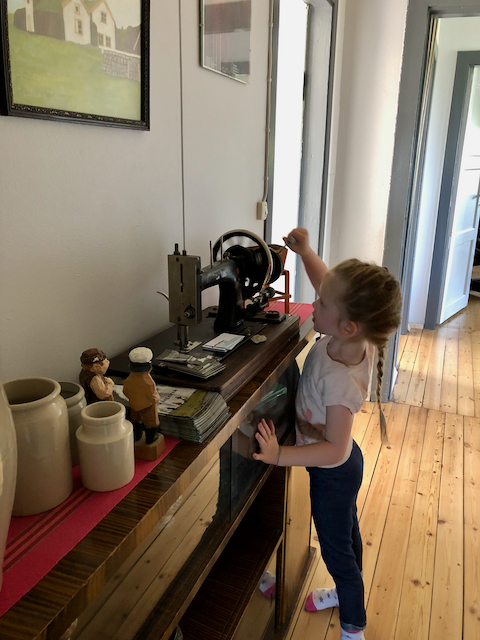 Midhop Guest House ended that first day in Iceland. Before I go on, I want to comment on the beauty of Iceland that is difficult to adequately capture in photos or describe in words. An illustration of this beauty can be seen in the photo above that shows Jess writing in the guestbook. The glass in the cabinet behind her is reflecting the actual view outside on that evening. When viewing this photo again years later, I first thought that I was looking at a painting on the glass windows of that cabinet, but I then remembered noticing that reflection at the time and turning around to see the full view of this beautiful house situated in a landscape that shines in its own splendor!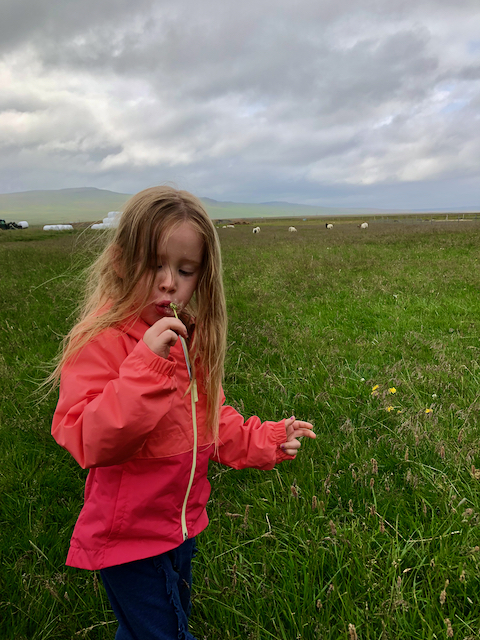 Day 2 : July 14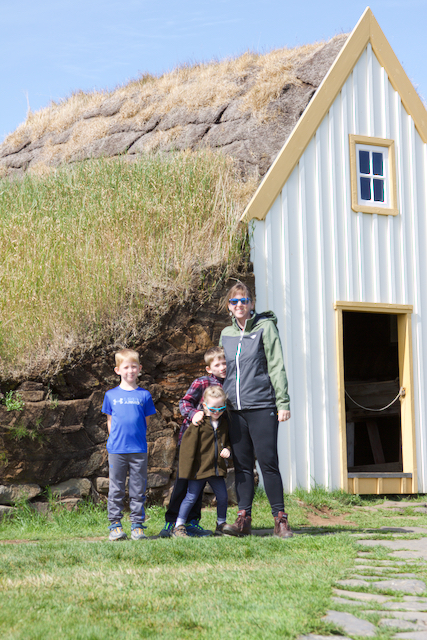 We started our second day in Iceland, July 14, with a visit to the excellent Glaumbær Farm and Historical Museum. Here you get to explore Icelandic turf houses inside and out, which were home to all people of Iceland for centuries. There has been a farm on this site since the 9th century, and the turf houses here now were built starting in the mid-18th century to the latest addition being built in the mid-19th century.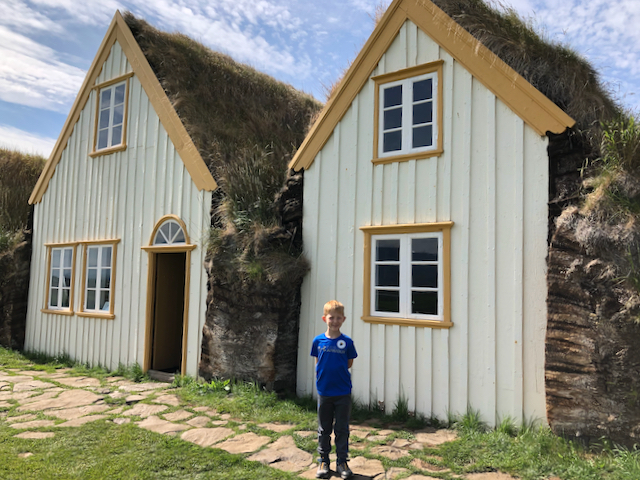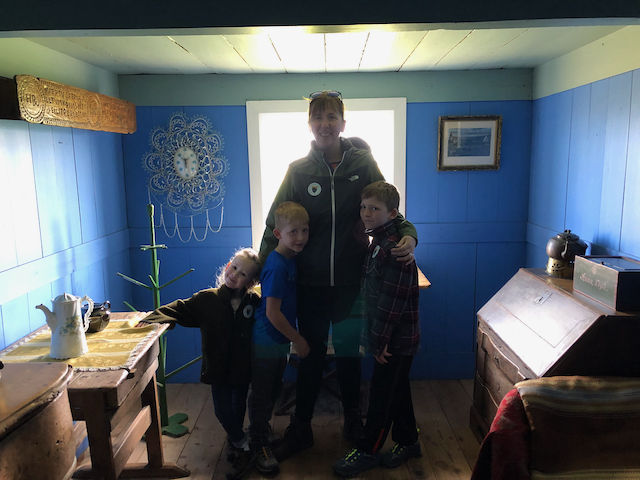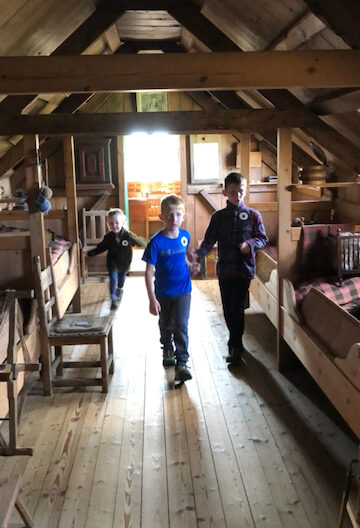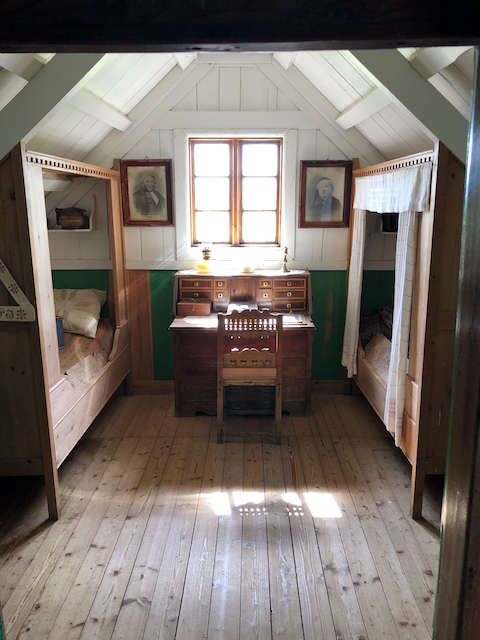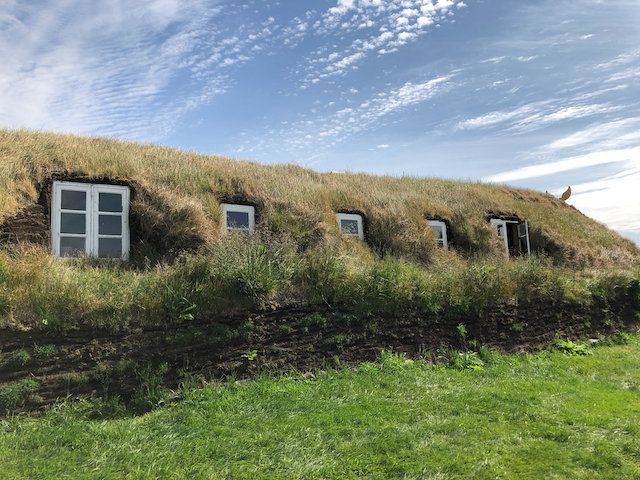 We knew that traversing the Ring Road around the whole of Iceland meant spending a lot of time in the car, and that was asking a lot from young kids with short attention spans and lots of energy. Fortunately the amazing sights of Iceland are spread out and mostly require only for you walk about the land and explore on your own what each has to offer. We decided to visit only a few museums, and Glaumbær Farm and Historical Museum offered this same experience as many other places on the island, where the kids (and we too) could walk around the site and inside the houses at our own pace, exploring and observing, and using our imagination to get a real sense of what life was like on Iceland for centuries of its settlement. Glaumbær delivered nicely.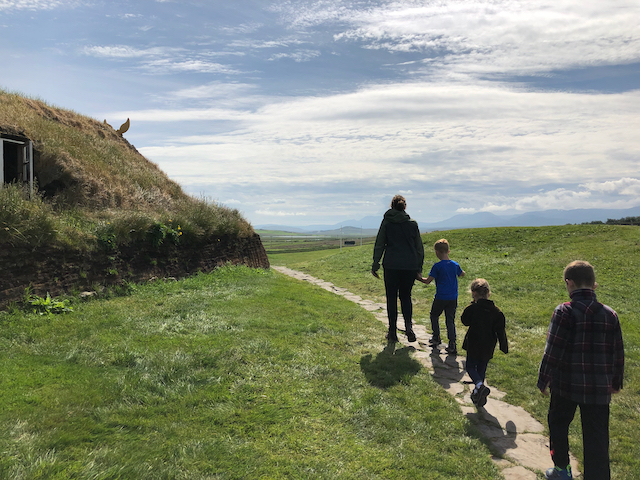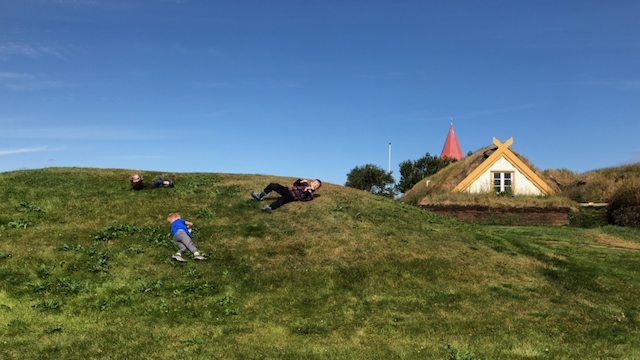 On a family road trip, there are random moments outside of any itinerary or sight-seeing that make for unexpected happy memories years later. One of those is a stop at a gas station in Hofsós, which has a great view of the Skagafjörður fjord. After fueling the car, we stopped for a moment to let our kids play at a local playground and burn off some energy along with some local Icelandic kids, while Jess and I made some peanut butter sandwiches for the road. I won't ever forget how it brought a smile to our faces to see all of children playing together despite not having a language in common, and afterwards how everyone settled into the warm car and sunk our teeth into those peanut butter sandwiches with the appetite of active travelers as we continued our journey along the coast of Skagafjörður.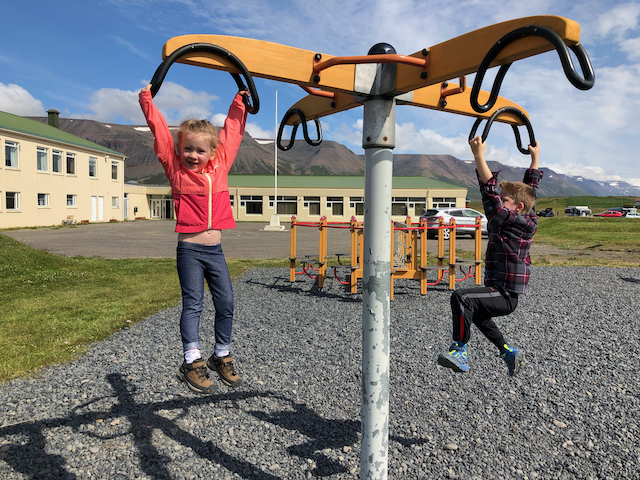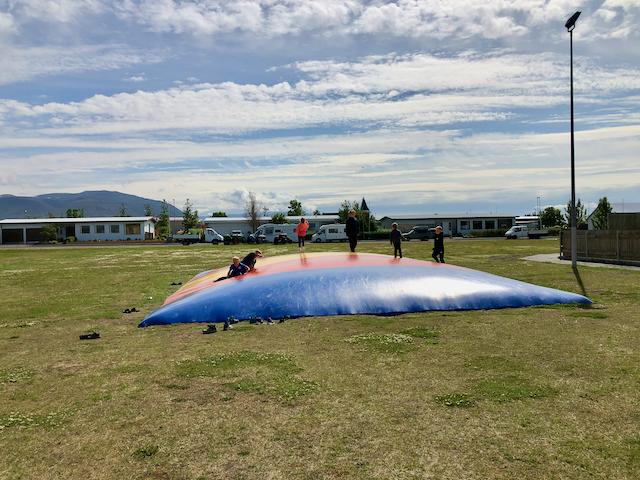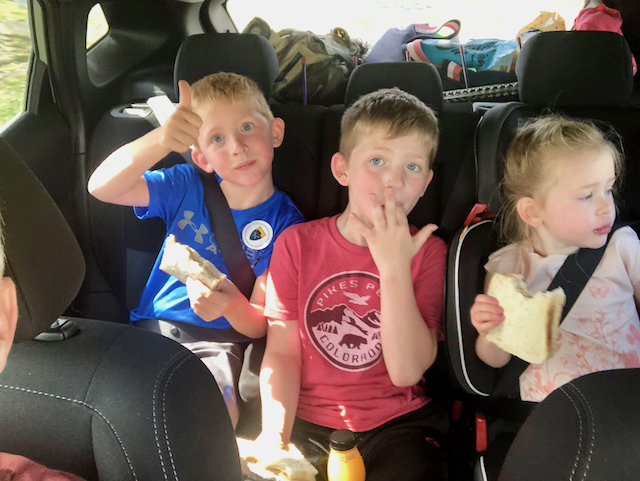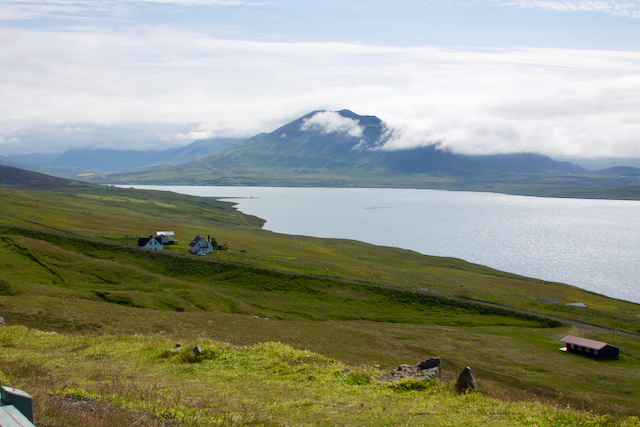 Stopping at Hofsós was an intentional departure from the main Ring Road (Route 1) in order to drive to a fishing town called Siglufjörður on the northern coast of Iceland. In our Rick Steve's book, this scenic route got rave reviews for some of the most beautiful vistas of the fjords that Iceland has to offer. It absolutely did not disappoint, and no photograph can convey the intense beauty of this land in the same way as immersing yourself in the journey mile after mile. Often times we were the only soul on the road for a very long time, other than the occasional family of sheep (or sheepy-weepies, as the kids called out every time they spotted a flock.)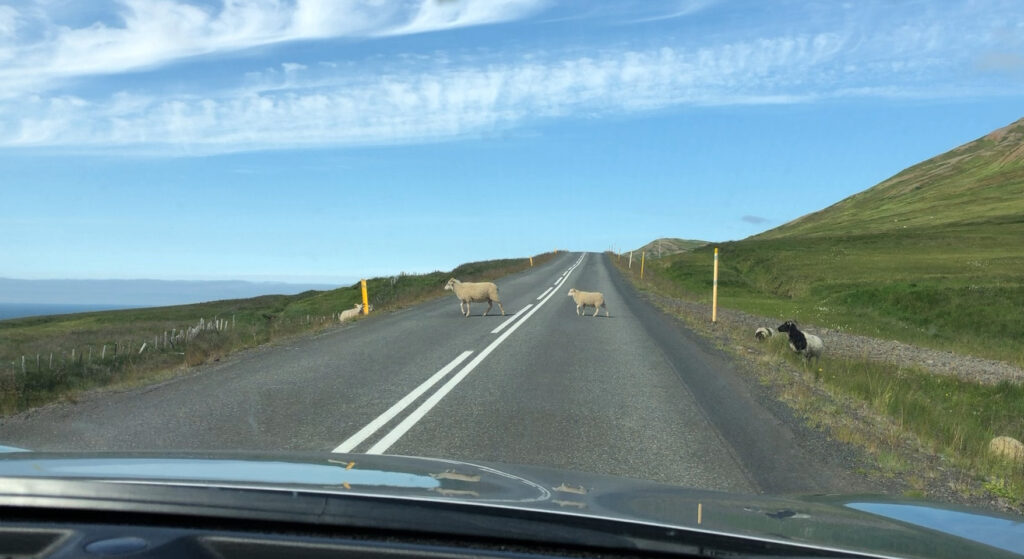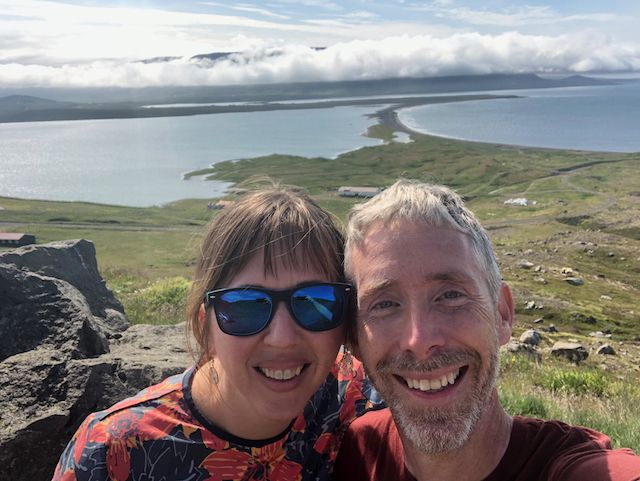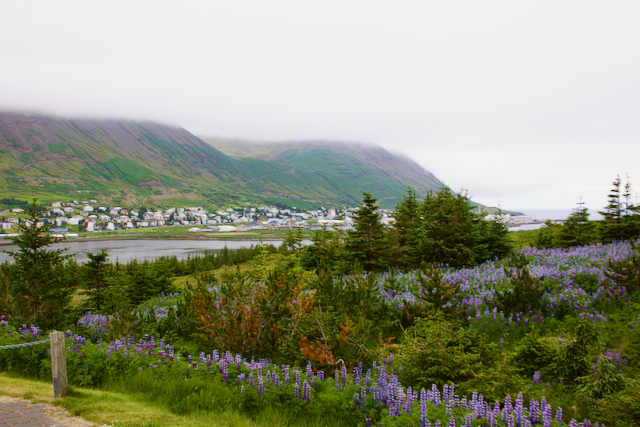 We arrived at the fishing town of Siglufjörður on the north central coast of Iceland, situated on a narrow fjord that shares the same name. Perhaps it was mid-afternoon, but in the land of perpetual sun in Siglufjörður where we were almost kissing the Arctic Circle here at 66.2°N, it's really hard to say. The view of the town from the surrounding hills was definitely picturesque, but we more so enjoyed stretching our legs at a leisurely pace, letting the kids frollick through the flower laden hills, and finding some of the only trees that we saw on the entire trip.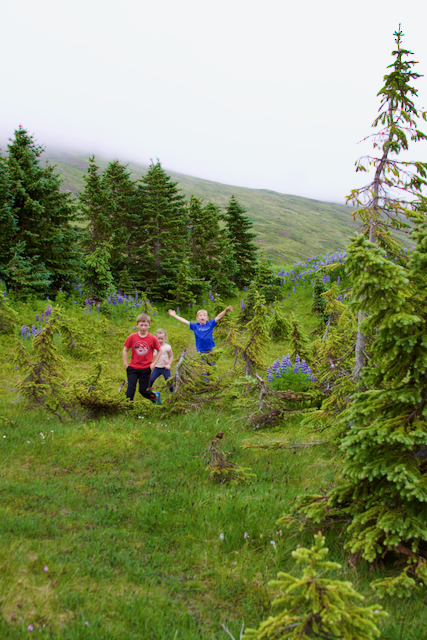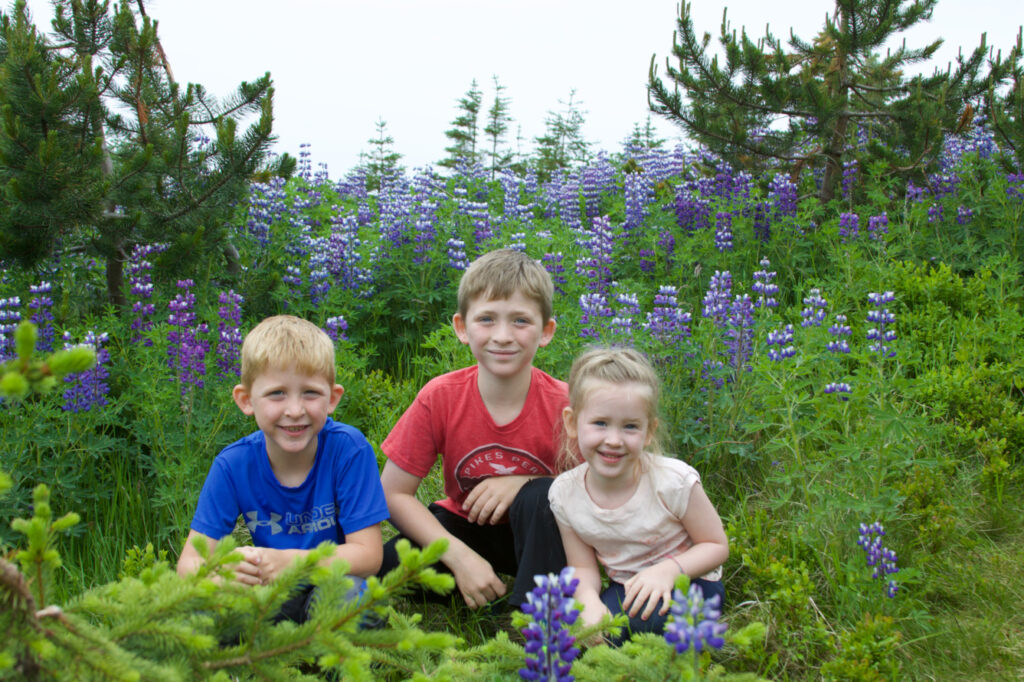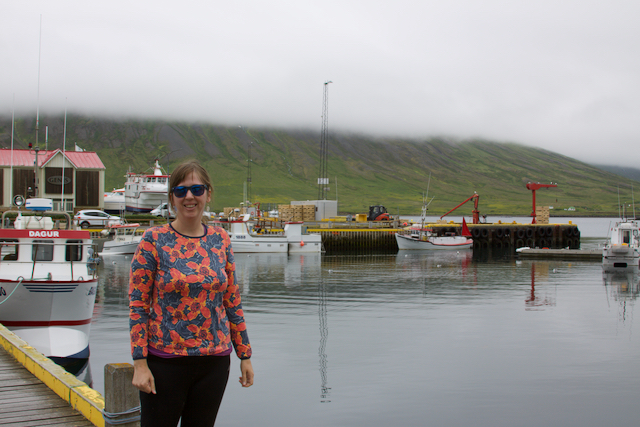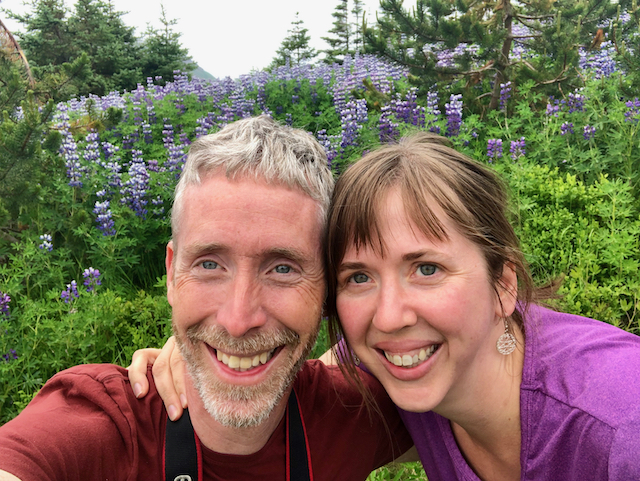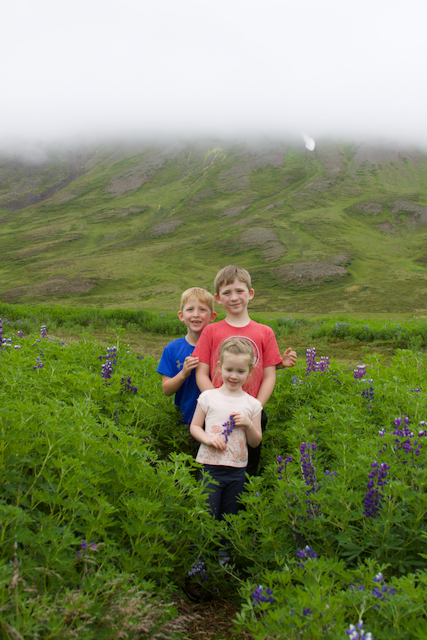 After Siglufjörður, we drove onward to a horseback riding tour we had booked with Pólar Hestar. These shaggy Icelandic horses were cool and unflappable as each of us got to ride our own horse, and riding solo was a new experience for our youngest two.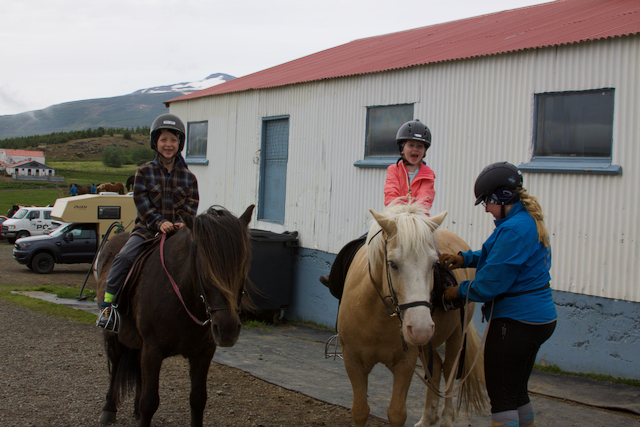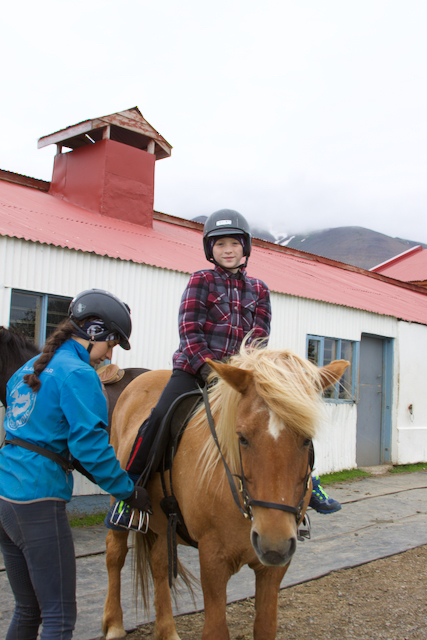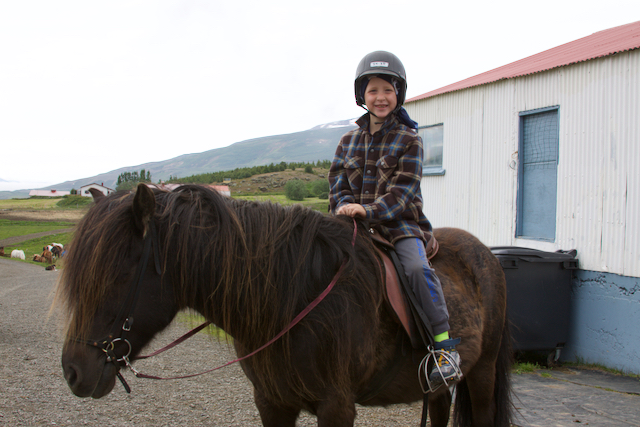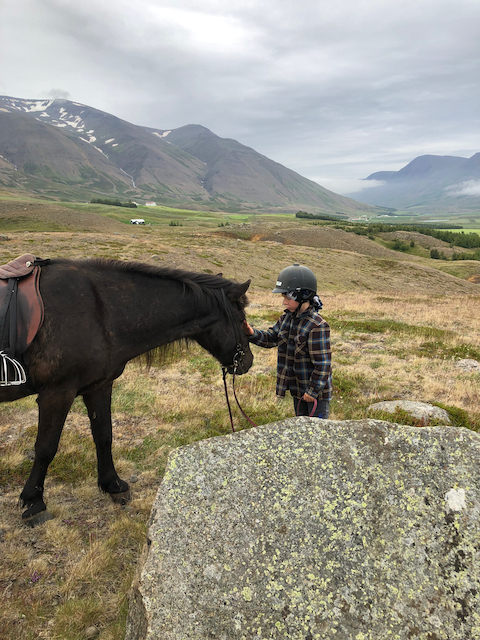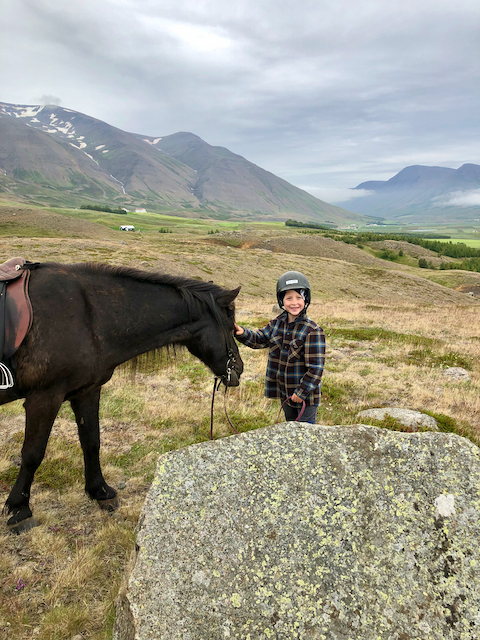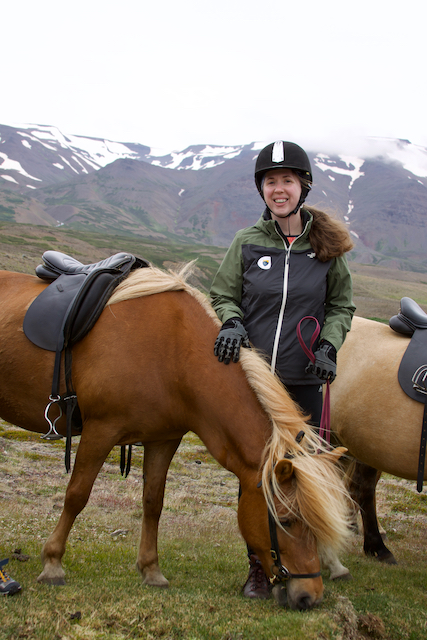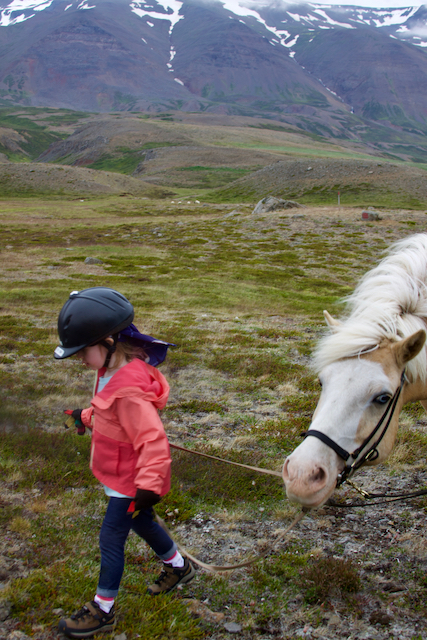 The ride across this remote land was amazing. The kids of course loved having their own horse, but crossing the landscape on horseback afforded us the time and perspective to really appreciate the majesty of Iceland and the stark determination of its people. That afternoon was certainly one of the favorite memories of our trip.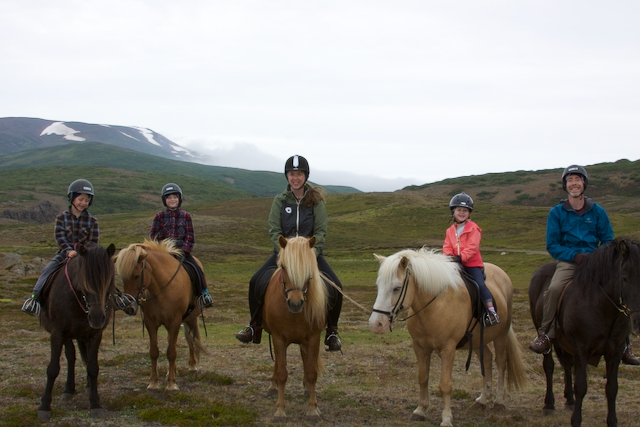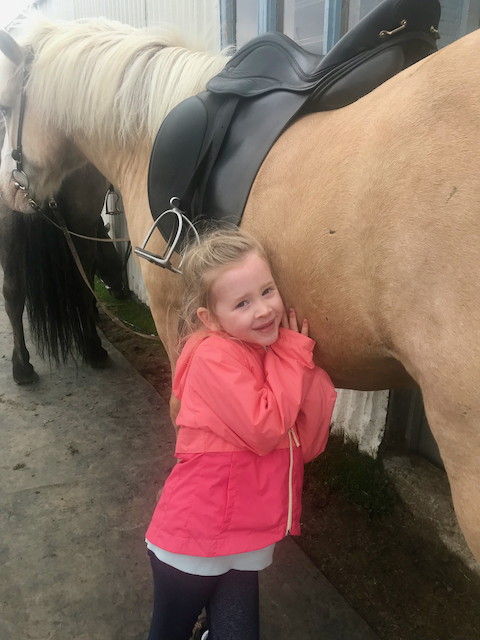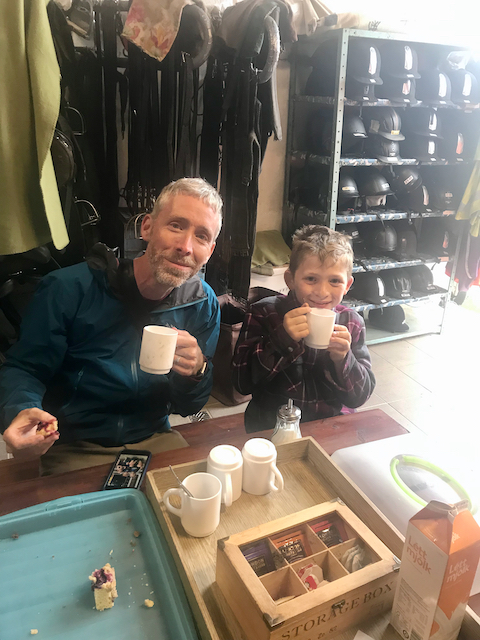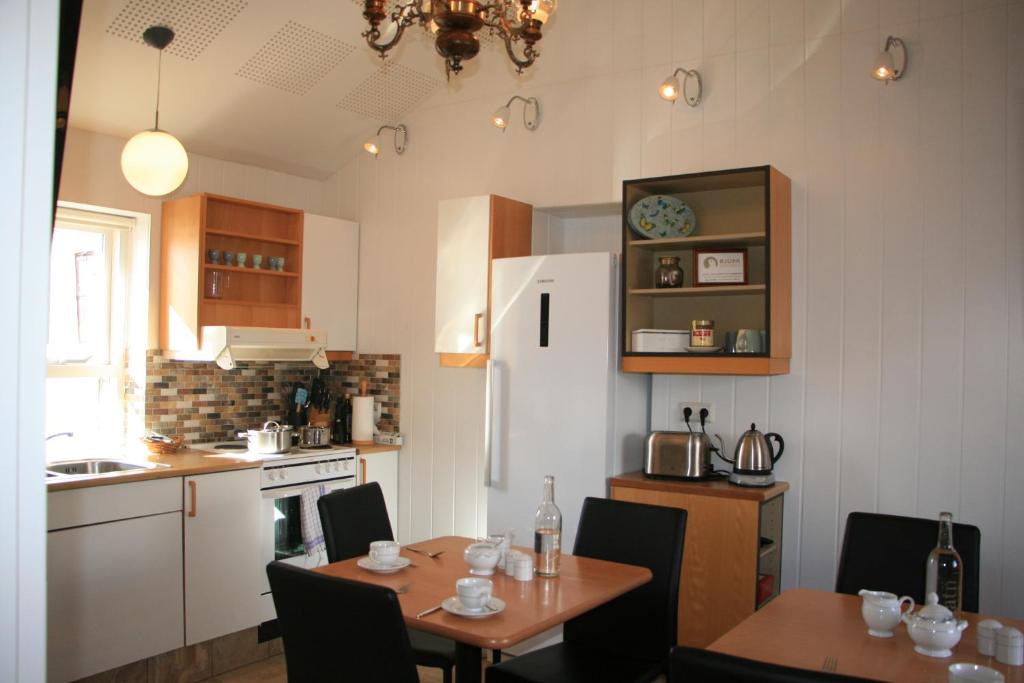 We ended our day at Rjupa Guesthouse, where despite the brazen sunlight we were all tired enough to get some solid sleep in our cozy family bedroom.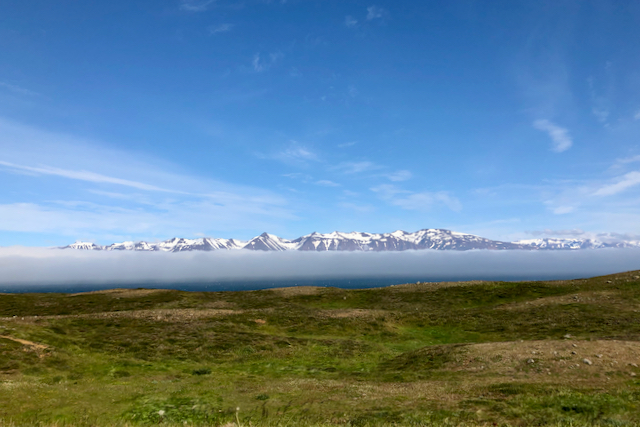 As I write this account of our travels in Iceland, and the memories begin to flow back, I really struggle to describe with any real justice how the rugged beauty of Iceland surrounds you, pulls you in, and begins to affect you in subtle ways that eventually take a strong hold. When you are there, you soon appreciate that Iceland, having no trees, presents you with a vantage point that is completely open to all creation. It is every bit as much "big sky country" as the American West, and the angle of the sun and the day that lingers on-and-on in these northern latitudes casts a spell to make every day seem timeless. The sea and the mountains blanketed in glaciers are ever present on the island. The wind is a nearly constant companion, mist and rain are abundant, and even though the days are so very long, you feel instinctually the looming temporal horizon of winter, where the cold and darkness will stretch from equinox to equinox, until the sun returns again to bless you with another summer, should you be fortunate enough to make it there. In this duality of beauty and abundant days juxtaposed with a tension of coming darkness and cold, you often find yourself caught in the moment. Caught not thinking, but feeling your place on the Earth that supports your feet and provides an enormous, thriving bounty of life to sustain you and all creatures. A vast sweeping beauty engulfs you from horizon to horizon and embraces you in that moment of existence, before the spell is broken and you move again taking another step and talking with your companion, as you continue your day in the sun.
Thank you for sharing our adventures. Look forward to upcoming posts chronicling days 3 through 7 of our family trip to Iceland!